AVALON BARRIER
The Avalon pedestrian safety barrier provided both stability and security with its Hi-Vis reflective strip and innovative lockable connector.
Easy to use and transport, this long lasting and robust one piece blow moulded barrier can be used in many applications such as construction, street works and events (both in-door and out-door).
Compliant with Chapter 8 Street works and BS 7818 specification for pedestrian restraint systems code of practice.
This product is 100% recyclable.
Dimensions – 2mtr (L) x 1mtr (H)
STRONG WALL 1000
Our Strongwall Heavy Duty plastic pedestrian and traffic barrier is an extremely robust and stable barrier system which is designed to meet the demands of providing safe access for pedestrians through road or construction works.
The barrier comes with an 18kg base which ensures the barrier remains stable in windy conditions
Compliant with Chapter 8 Street works.
This product is 100% recyclable.
Dimensions – 1mtr (L) x 1mtr (H)
STRONG FENCE
Our Strong Fence is designed to protect deep excavations and hazardous sites.
The anti-climb mesh fence topper gives maximum flexibility and security by taking the system to 2mtr in height.
Its modular design means the StrongFence is easy to handle and can be erected easily by a single operative.
Compliant with Chapter 8 Street works.
This product is 100% recyclable.
Dimensions – 1mtr (L) x 2mtr (H -with mesh topper)
WATER FILL-BARRIERS
Our water-fill (can also be filled with sand) is a substantial barrier that can easily be installed by a single operative.
The barrier has been designed to stack very efficiently which enables a large quantity to be carried on a much smaller vehicle.
Manufactured from blow moulded UV stabilized polythene and generally supplied in alternating colours of red and white.
This system can be used on construction sites as well as docks and airports to ensure pedestrian/vehicle guidance and safety.
Dimensions – 1100mm (L) x 600mm (H)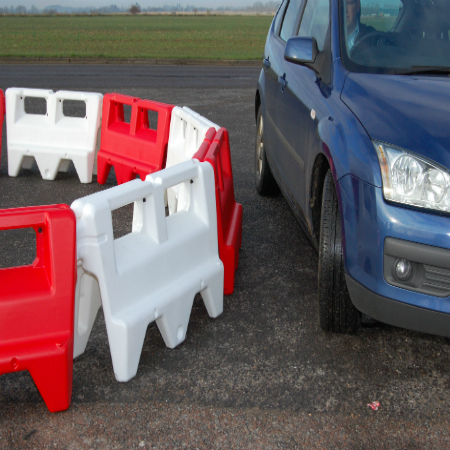 SLOT BLOCK BARRIER
Our slot-block barrier system is a purpose designed, water-filled barrier that can accommodate a standard mesh site fence panel.
This system is very robust and versatile that, unlike many other systems, can easily accommodate corners without compromising on strength.
This system is ideal for sites where space is of the essence as is carries a profile of 400mm, less than that of a standard rubber block, whilst offering additional stability to the fence line.
When completely filled with water, a set of slot block barriers weighs 160kg and has been MIRA tested to a wind load of 57mph.
Click the button below to see our technical documentation for the wind testing!