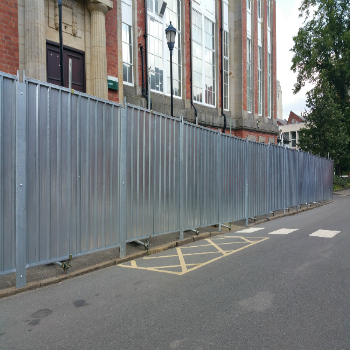 STEEL HOARDING SYSTEMS
We offer a wide range of steel hoarding options to suit any site requirement.
Panels are available in 2.0mtr as standard or 2.4mtr to order – all available for either hire or sale (buy-back available) and can be powder coated to meet any corporate requirement.
FREE STANDING CRADLE SYSTEM
Our cradle system utilizes a cradle/stillage which is filled with concrete ballast blocks which act as a counter weight to the rear of the hoarding line. The cradles are fixed to the hoarding panels using a right-angled scaffold tube frame and special hoarding-to-scaffold fittings.
Cradles can be easily moved using a machine or pallet truck which makes this a perfect system for ever changing site requirements but because the ballast blocks are encased within the cradle it ensures the rigidity of the system is not compromised by contractors removing blocks (unlike older freestanding back stay/tray systems).
Generally, the cradle system carries a profile of 1.5mtr to the rear of the hoarding line to accommodate the scaffold frame and cradle within site.
Perfect for hardstanding sites where in-ground systems are not an option due to underground services.
Unlike back stay/tray options, which are widely available from other suppliers, this system doesn't rely solely on the integrity of the fence coupler.
Please click the button below to see our technical information for the cradle system!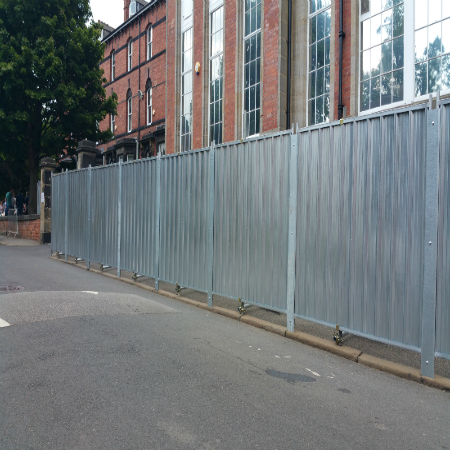 IN-GROUND SYSTEM
Our in-ground system uses scaffold tubes fixed into the ground to the rear of the hoarding line with the panels fixed to the tubes using special hoarding-to-scaffold fittings.
Posts can be core drilled into hard dig applications causing minimal disruption to existing ground or can be dug out and concreted in for soft dig applications.
In-ground systems are ideal for sites where space is of the essence as it carries a profile of less than 170mm – perfect for inner city developments.
TIMBER HOARDINGS & ANCILLARIES 
Timber hoarding is often seen as a more of a semi-permanent alternative to steel hoarding systems.
Generally reserved for boundary site protection, a timber hoarding offers the maximum security to site as well as the general public.
Timber hoarding systems are available as standard in 2.4mtr high with added options such as skirting, capping and decoration but can be adapted to meet any site requirement or budget.
Available in 12mm, 15mm or 18mm ply boards, timber hoarding offers an ideal canvas for corporate livery throughout all building, construction or demolition works
We can work to any specification provided by our customers or can offer full site survey and recommendations based on our extensive experience within the industry.
We are able to offer a wide range of ancillaries for our steel hoarding systems including:
Heavy-duty Site Entrance Gates (Steel posts concreted in-ground)
Pedestrian Entrance Gates
Vehicle Entrance Gates
Privacy In-fills
Mesh Extension Panels
Vision Panels