Temporary Site Fencing
The majority of the materials we use are sourced within the UK and of the highest quality. All our panels are mig welded by hand enabling quality control from the very beginning of the manufacturing process - something you cannot achieve with automated systems. We carry large quantities of all our fencing products to ensure we can meet the demand of our customers and respond quickly and efficiently to all requirements.
All our fencing products are available for hire or sale (buy-back available) and can be powder coated to match any requirements. We often have second-hand stock available for sale when budgets are tight so just ask!
We also offer a highly competent and professional installation services on all our fencing products.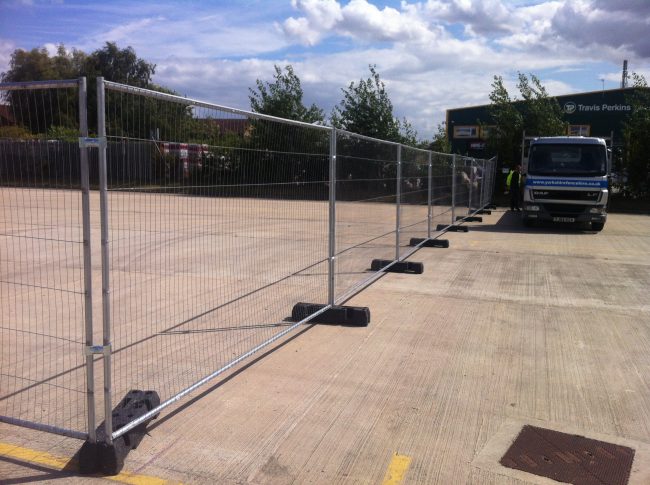 SQUARE TOP FENCE PANEL
Constructed from 35mm tube with mig welded corner joints and anti-climb mesh.
This panel is perfect for all general fencing requirements. Great as a budget panel and very easy to repair if damaged.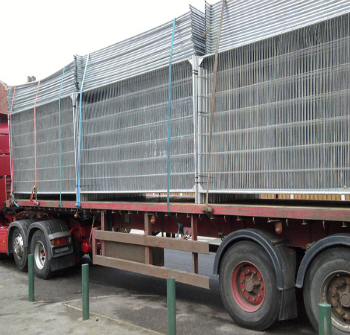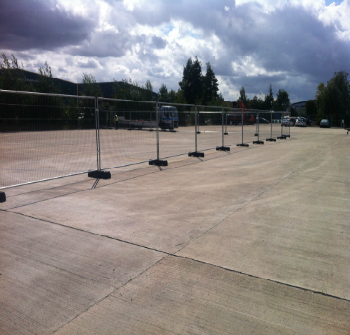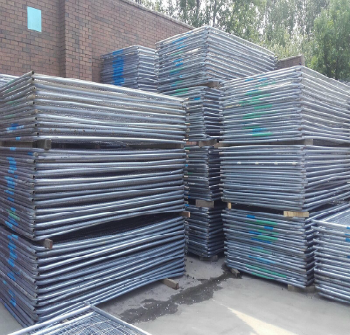 ROUND TOP FENCE PANEL
Roundtop panels are named as such as they're made from 1 continuous tube.
The singular tube runs along the length of the sides and top before being joined by a second tube at he bottom and welded in each corner.
Each panel is constructed from 35mm tubes and features anti-climb mesh.
This panel is the all-round, all-purpose fence panel, suitable for most site purposing.
This panel offers the superior strength and rigidity when compared to its square top counterpart but is not very cost effective to repair once damaged.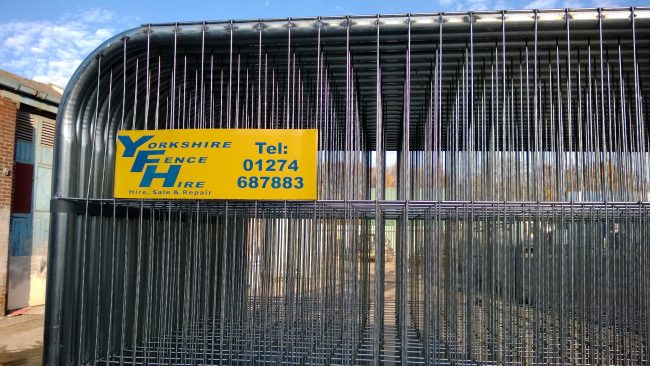 ANCILLARIES
We offer a wide range of ancillaries for our temporary fencing, such as:
Double Leaf Vehicle Access Gates – Available in 4.2mtr (Roundtop) and 7mtr (Squaretop) – complete with sliding latch handle and collared swivel fittings
Single Access Pedestrian Gates – 1.1mtr (Roundtop and Squaretop) – complete with sliding latch handle, collared swivel fittings and dummy pole
Fence Couplers – Heavy duty British made fence couplers
Anti-Tamper Fence Couplers – Heavy duty British made fence couplers with shroud cover and special nut which can only be undone using special socket (also supplied)
Rubber Blocks – Recycled thermoplastic blocks
Fencing Back Stay – Stabilizing backstay which can be held using rubber block or pinned to ground
Ground Pin – Heavy Duty ground pin for use with fencing back stay
Anti-Lift Device – Device to hold fence panel so it cannot be lifted out of the rubber block
Mesh Extension – 400mm mesh extension panel (not available for Roundtop panel)
In-ground Kits – Scaffold tube and hoarding-to-scaffold couplers for use where a more permanent fitting is required
Powder Coating – All steel products can be powder coated to match any standard RAL or BS colour
Bespoke Fencing – We are able to manufacture panels to any specification if required, just ask!